It's pancake Tuesday and we're busy eating fluffy circles of goodness topped with all sorts of sugary badness at Clearbox Towers. Does life actually get any better than this?
Whilst enjoying a bit of over baked snacks with little meaningful substance, we got to thinking about some campaigns over the years that have fallen flat. Here are six that immediately sprung to mind…
1. Fyre Festival
Obviously had to start here. It was billed to be the most exclusive party ever - bigger than Coachella and more glamorous than Kylie Jenner's Instagram feed. Billy McFarland used the power of influencer marketing to create the illusion of an exotic desert island party that would be a haze of models, yachts and luxury. What was missing? Well, pretty much everything. Including the private island, luxury villas, music acts and, ultimately, any form of honesty and accountability. A campaign that prioritised glitz, glamour and hype over substance and a watertight event plan.
2. London Dungeon
A 2017 Valentine's Day campaign from the London Dungeon bypassed sensitivity in favour of dark humour with a meme dedicated to Jack the Ripper. We love a bit of risqué humour but there needs to be some sort of filter applied - even Paddy Power employs some degree of censorship.
3. #susanalbumparty
This is actually one of our favourite mishaps of all time so we wouldn't exactly class it as a flop but it's making the list because, well…any excuse to relive the sheer banter. When the singer's team created a hashtag to celebrate her upcoming album release, it probably wasn't an intentional pun or suggestion to Susan's extra curricular activities. The hashtag was swiftly changed to #SusanBoylesAlbumParty, but we all know which hashtag got the most attention and is still being talked about five years later!
4. H&M
H&M made a catastrophic blunder when using a black boy to model a hoodie with 'Coolest Monkey in the Jungle' emblazoned across the front. Needless to say, this didn't go down well on social media or with The Weekend who had previously fronted campaigns for the brand. He immediately cut all ties with H&M. Deliberately racist? No, but a complete lack of cultural sensitivity. Moral of the story? Dissect and analyse all brand communications before they go public.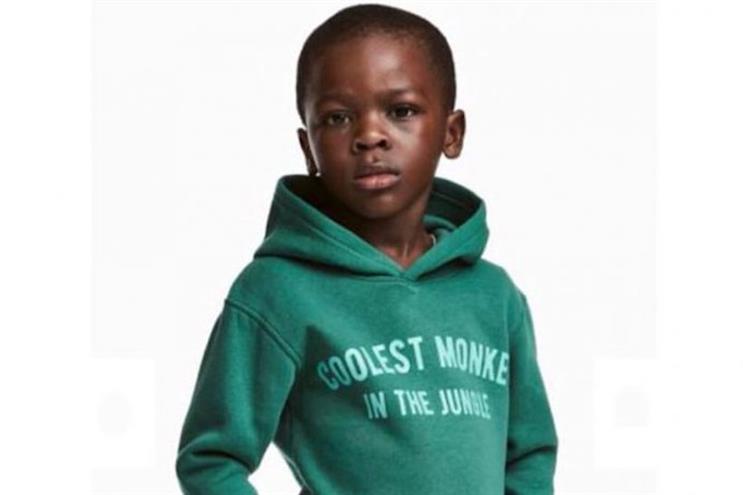 5. Gerald Ratner
In 1991, Gerald Ratner was the head of his family business, the Ratners Group (owners of Ratners, H. Samuel, Ernest Jones, Watches of Switzerland and more than 1000 shops in the US.) The Ratner jewellery brand was a mainstay of the British High Street, selling affordable jewellery that was heavily discounted - think a Sports Direct sort of vibe. 1991, Gerald gave a speech at the Royal Albert Hall in to the IoD. Commenting on the quality of his products he said:
"We also do cut-glass sherry decanters complete with six glasses on a silver-plated tray that your butler can serve you drinks on, all for £4.95. People say, "How can you sell this for such a low price?", I say, "because it's total crap. Cheaper than an M&S prawn sandwich but probably wouldn't last as long."
The speech hit headlines around the world. Customers, offended at his remarks, stopped shopping in his stores and his poorly chosen words wiped £500m off the stock price of his group. That's a lot of money now, but in 1991 it was even more significant.
Poor Gerald tried to turn the situation round but was fired by his own group. He blamed the media for picking up on a joke and taking it seriously…Today, he's tried and failed to build an online jewellery business. A textbook example of the value of brand over product quality.
6. The fall of the DDR
What caused the fall of the Berlin Wall? An embargo on a press release…
On Nov 9th 1989, Gunter Schabowski, the PR man for the DDR (Deutschland Democratic Republic) government was speaking on live TV in a press conference. He declared that travel restrictions had been removed and the Berlin Wall would be opened.
To the one word question "when?" he answered: "immediately." Within hours the tide of people clamouring to cross the border was unstoppable. and beleaguered border guards gave way. The order to lift travel restrictions was supposed to be implemented the next day, Nov 10, with the intention of overseeing a more orderly process of exit visas, stamps and passports. Gunter's failure to get the embargo date right on his own press release led to the fall of the Berlin Wall and the eventual collapse of the one party Communist rule in Eastern Europe, also known as the Iron Curtain. Respect the embargo, people!